Welcome to the Fallen Legion Wiki
the Fallen Legion compendium by the players, for the players.
We are currently maintaining 388 pages (60 articles).
Please feel free to contribute by creating new articles or expanding existing ones.
What is Fallen Legion?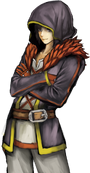 Fallen Legion marries the intensity of action games with the trials of ruling an empire to create a unique RPG where every battle is a heart-pounding fight and each gut-wrenching choice impacts the realm.
Embark on a personal journey with Princess Cecille and an enigmatic talking grimoire to restore glory to your crumbling home in Fallen Legion: Sins of an Empire for PlayStation 4. Explore gorgeous, hand-drawn lands inhabited by rival soldiers and ferocious dragons. With a team of living weapons at your side, fight enemy hordes and master devastating combo attacks to defeat challenging bosses with the game's deep combat system.
In Fallen Legion: Flames of Rebellion for PlayStation Vita you control Princess Cecille's rival, Legatus Laendur, who is leading an army to overthrow the royal family. These stories told on both platforms complement each other to build the rich universe of Fenumia. Rule your Empire between brutal battles and make gut-wrenching decisions that change the fate of your country and your people. Will you blackmail a prince to gain a strength buff or tax a starving village to revive one of your characters? Fallen Legion pushes players to make difficult decisions and witness the consequences of their choices.
Fallen Legion Links
News
Videos
Fallen Legion Revenants

Launch Trailer, PlayStation
Fallen Legion: Flames of Rebellion
Wiki
Help Wiki
Community
---
To write a new article, just enter the article title in the box below or in the search box at the top of the page.
---
Adding content

If you are unsure of what to do or how to create a page, search for a few articles on the same topic and see what they look like. You can always view the source code in a wiki and learn from what others have done.
An edit doesn't have to be massive; if you feel you don't want to create whole articles, then just fixing spelling errors and broken links is enough.